Blacket
Located close to the Old Town on the South Side of Edinburgh, 'Blacket' forms the core of the Newington area of the City, adjacent to Minto Street, part of the new road which was driven south from the east end of Princes Street in the early 19th century. Much of Blacket's then - largely-rural site was, from that time, developed to an overall plan which provided for the handsome range of villas, set in individual gardens with a fine range of now-mature trees, that characterise the central part of the site. These are, in turn, complemented by attractive slightly earlier period houses to the west and some significant larger mansions to the east, adjacent to Holyrood Park.
Almost without exception, the properties across Blacket were designed and constructed in stone. The district became, in 1972, the first part of the City of Edinburgh to be designated a Conservation Area in recognition of its unique architectural and historic qualities.
This web site is mounted on behalf of the Blacket Association in the hope it will be of interest and assistance both to members of the Association and the public more generally. While reasonable efforts have been made to try and ensure the information contained on this site is accurate, we would welcome suggestions for corrections and additions.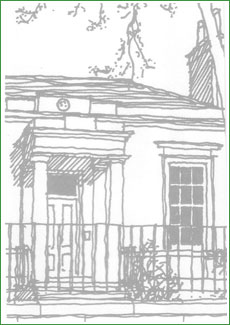 An Invitation
Do you have information, visual or verbal, on the past history of your house or street within Blacket? If so, please contact the Blacket Association Website Editor so we can progressively build up the material we are able to share with net users.
The Association would particularly like to acknowledge the value of materials sourced from earlier Blacket Association publications, including the 1971 Adventure Trail leaflet (with sketches by Frank White), the 1992 Architectural & Historical Guide (text by Rebecca Bailey, illustrated by Michael Beanland) and 1999 Guide for Residents. Also, invaluable information contained in Charles Smith's books on South Edinburgh, held in Newington Library, and more recently published in single volume by Birlinn Ltd. Finally, a number of websites, and particularly that of the West Blacket Association, which is particularly informative in relation to the western section of the Blacket Conservation area.